Updates from the Campaign.
Sunday, October 13, 2019 12:00 AM
---
Thursday, October 3, 2019 12:00 AM
---
Thursday, September 12, 2019 12:00 AM
---
Friday, September 6, 2019 1:34 PM
I'll be hosting a series of #community conversations over the next few months and cannot wait to visit with you!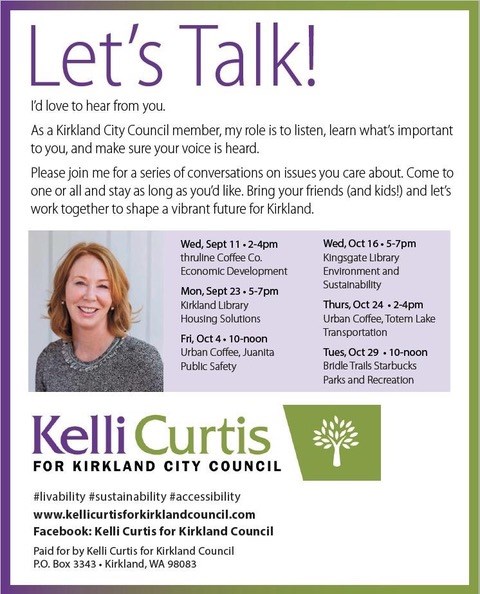 ---
Friday, August 16, 2019 12:00 AM
---
Tuesday, July 30, 2019 12:00 AM
---
Monday, May 13, 2019 3:30 PM

Candidates continue registering for local Kirkland races
Official filings will be made available next week.
By Aaron Kunkler
Thursday, May 9, 2019 8:30am
NEWS

Candidate filing for the November election is next week, with both the Kirkland City Council and Lake Washington School Board primed for a shake up.
Filing week will be from May 13-17, but some citizens have already announced that they will, or won't, be running.
On the council, Positions 2 (currently held by Tom Neir), 4 (Toby Nixon) and 6 (Dave Asher) will be up for election for four-year terms, while Position 5 (formerly held by Amy Walen, and now Kelli Curtis) will be a two-year term, expiring in 2021.

Neir already said that he will not seek re-election in 2019, due to growing demands from his business, and Asher is retiring. He is endorsing Amy Falcone, human services commissioner and Finn Hill Neighborhood Alliance board member, for his seat.
The Public Disclosure Commission showed four candidates had registered for the 2019 council elections as of May 7. This included Nixon who is running for re-election. He had received around $700 in contributions at the time of publication.
Houghton Community Council member Neal Black has also filed to run in the City Council election for Pos. 5. Black had received more than $13,000 in contributions, largely from individual donors.
Curtis is running for Pos. 2. Curtis has received $18,650 in cash contributions, also largely from individual donors. She is currently serving as the Pos. 5 council member after being appointed earlier this year to fill in for Walen, who left after being elected to the state Legislature.
Falcone will be running for the Pos. 6 seat this year too. Falcone has raised more than $7,200 in contributions, again, mostly from small donors.
For the Lake Washington School District, Siri Bliesner has filed to run for the office of school director as has incumbent Eric Laliberte.
See www.kingcounty.gov/depts/elections/for-candidates.aspx for more on candidate filing.
---
Tuesday, May 7, 2019 12:00 AM
---
Sunday, March 31, 2019 5:21 PM
New Councilmember Curtis is ready to serve Kirkland
The 25-year resident has clear goals for her term.
By Katie Metzger
Wednesday, March 13, 2019 8:30am
Growth, community inclusion and the environment top the list of issues that new Kirkland City Councilmember Kelli Curtis plans to focus on during her term.
On Feb. 19, Curtis was appointed to fill the council vacancy left by former Mayor Amy Walen, who announced she'd be resigning to dedicate her time to serving in her newly elected role in the Washington State House of Representatives. Curtis was officially sworn in on March 5.
Curtis told the Reporter that she was "shocked, thrilled and honored" to have been selected from among the 27 people who applied for the council position.

Curtis, who has lived in Kirkland for 25 years, said it is "such a beautiful jewel of a city," with parks, amenities and a "wonderful engaged community." She's had a lot of experience on various city boards and commissions, including the Houghton Community Council and the Park Board. She is also a dialogue facilitator for Kirkland Talks.
"It's exciting to be a part of community that does care so much and that is going through a fair amount of growth," she said.
Curtis said one of her priorities is "thoughtful growth," and that she wants to involve the community in discussions about where and how Kirkland will add density. She also would like the city to be proactive in addressing the need for affordable housing for low- and middle-income families.
She had served on the city's housing strategy advisory committee, and wants to continue to work on housing diversity, while also addressing the impacts of integrating new developments, including traffic and transition zones between single- and multi-family homes.
She also wants to make sure that Kirkland is welcoming to all, from seniors and transplants to children and people with disabilities and more. The council should work on completing the parks projects already in development, Curtis said, including Totem Lake Park, the Juanita Beach Park bathhouse and 132nd Square Park, while continuing to expand the system and make sure community spaces work for everyone.
"Our infrastructure needs to grow as our density grows," she said. "We have a wonderful parks system — mean, we're famous for [it] — and we need to continue to maintain that and preserve our open space and our environmental assets as we become more dense."
Keeping Kirkland an inclusive community was one of the focal points of her application and interview, she said.
"I love having conversations about those issues," she said.
Curtis said it's also important to engage the city's youth and spent last summer registering young people to vote.
"The work that I'm doing is building a future for them," she said.
Curtis has two children of her own, who both grew up in Kirkland and worked for the city as lifeguards and swim instructors, she said. In her spare time, she fosters puppies and enjoys gardening and donating extra food she grows to Hopelink.
Curtis will serve on the council until the November 2019 election results are certified. She has the option to file in May to run as a candidate in that election.
See www.kirklandwa.gov for more.
---
Friday, March 22, 2019 8:52 PM
---
Wednesday, February 20, 2019 12:00 AM
---
Tuesday, April 4, 2017 12:00 AM